Swiss Château Reed Diffuser
$20.15 $21.90
Swiss Château Scent

Imagine life in the swiss alps in the summertime. The sun shines brightly overhead and a cool mountain breeze combs the grassy plains. This very feeling inspired the Swiss Chateau scent. A breath of fresh air hits you through the top notes of tangerine, raspberry, and freshly cut grass. Heart notes of white flowers & roses give the scent a spring sweetness. Whilst the base notes of musk and sandalwood mimic the cozy wood antique wood interiors of the chateau.
Reed diffusers are an easy and elegant way to fine-tune your home. Pristine's long-lasting scent helps to make your home feel clean and refreshed. Every box of Pristine Aroma Reed Diffusers includes 5x reeds and one bottle of pre-filled fragrance oil (50ml/180ml).
It can last up to 4-6 weeks (50ml), and 3-4 months (180ml). The shelf life is 12 months after opening the packaging.
Learn more about the inspiration behind the Swiss Château Scent here.
Instructions
Insert reeds into the bottle. The reeds will absorb the oil the diffuse the scent into the air. The diffuser will achieve full results in 12 hours. Flip the reeds for more fragrance. Do not burn.

Customer Reviews
06/23/2022
Chino

Malaysia
nice smell
Product came in good packaging. Upon opening the bottle, I can immediately smell the fragrance. I only used 2 stick as my room is quote small. Thanks seller!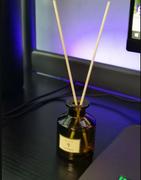 06/23/2022
Stephen S.

Malaysia
clean scents
Clean scent. Better used in airy spots of the house.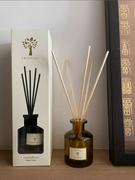 06/23/2022
lean

Malaysia
Gorgeous scents.
Received the item in good condition and nicely packed. Delivery took 2 days only. I'm just wondering i thought the reed stick is black but i received the normal kind. Hopefully the smell will last.