"This scent is spot on to Shangri-La's signature scent.."
- MERVIN ⭐⭐⭐⭐⭐
Japanese Ryokan as reviewed by Mervin who frequents the Shangri-La Hotel in Hong Kong - He can now enjoy the hotel scent without a 17-hour flight from USA (Link to review)
Japanese Ryokan
Now available in diffusers, candles & aroma concentrates.
Scent up your home & car with the smell of Shangri-la Hotels.
Shop now
About The Scent
Japanese Ryokan
Inspired By Shangri-La
We took inspiration from the Shangri-La Hotels when we were developing the Japanese Ryokan Scent.
We liked how zen staying at Shangri-La always felt. We associated this feeling with the vibe of staying at a traditional Ryokan in Japan.
A Scent For The Faint Hearted
The Japanese Ryokan scent is well-loved for its light and calming scent. A result from our signature blend of sweet florals, lavender & sandalwood.
We recommend this scent for those who are adverse to strong pungent scents.
A Better Quality Product
Pristine diffuser blends have a higher concentration of fragrance oils for a long-lasting natural scent.
Pristine reed sticks are made of polyester for greater scent dispersion and mold prevention.
Testimonials
Japanese Ryokan
What Singaporeans Are Saying About The Scent:
"
I use Japanese Ryokan in my bedroom. It gives me a maximum relaxation (thats all I need), and airbnb vibes.
"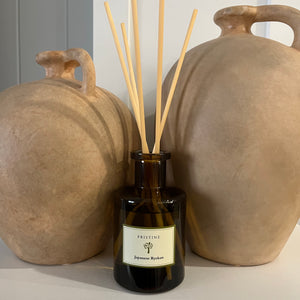 "
I have 2 favourite scents - Himalayan tea & Japanese Ryokan. I love pristine because the smell is ever lasting & luxurious smell, it freshens the house and every guest who came to my house always complimented how good the reed diffuser smell is.
"
"
We absolutely love the Japanese Ryokan scents! It is nice to return to a beautifully scented home at the end of a long day.

We also use our Pristine Room Spray in our washrooms to get rid of any harsh smells.
"
Shop Japanese Ryokan
Your Home Can Now Smell Like The Shangri-La Hotel
Shop now

"Scents From Pristine makes you feel like you're on vacation at home.."
"step one to making your home smell like a high end hotel.."
"Reader's Choice - Best Health & Wellness Aromatherapy Award"
"My home smells like a 5-star resort thank to this.."
Shop Pristine's Best Sellers